Land use and Biodiversity
PESTROP - Pesticide use in tropical settings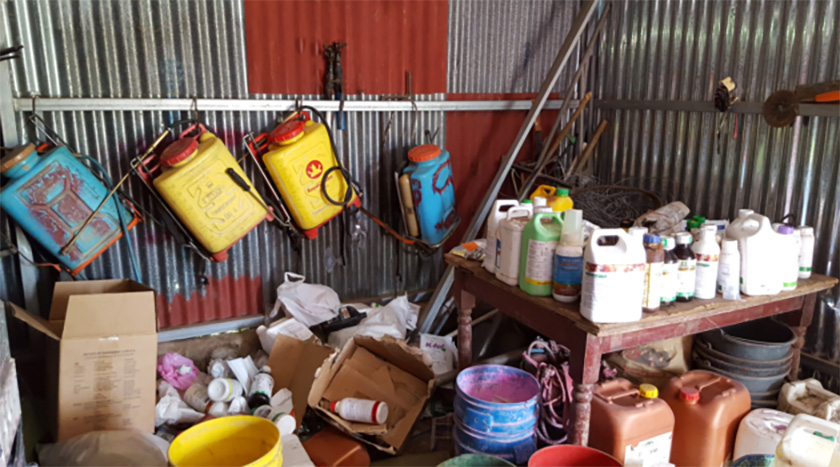 PESTROP is an inter- and transdisciplinary research project, studying environmental, health and institutional dimensions of pesticide use in tropical settings. The overarching research questions addressed in the two study areas (Costa Rica and Uganda) are: What are the mismatches between institutional determinants of pesticide use and actual practice of pesticide applications on small-scale farms? Which changes in pesticide use practice and policy are needed to efficiently reduce human and environmental exposure to pesticides?
From a political science perspective, we examine the decision-making process and the implementation of public policies for a safer and more sustainable use of pesticides. With the help of a network analysis, we examine preferences for innovative policy instruments at the national level, the exchange of information (political and technical information) between the national and local levels, as well as the role of forums and cooperation. We interview national stakeholders and local street-level bureaucrats to identify the policy network.
Contact
Prof. Dr. Karin Ingold
Tel.: +41 31 684 53 60
E-Mail: karin.ingold@ipw.unibe.ch

Team

Project partners

Mirko Winkler (Swiss TPH); Christian Stamm, Rik Eggen, Philipp Staudacher, Frederik Weiss and Christelle Oltramare (Eawag); Samuel Fuhrimann (University Utrecht); Jennifer Inauen (Universität Bern); Ana Maria Mora Mora (Universidad Nacional de Costa Rica); Aggrey Atuhaire (Uganda National Association for Community and Occupational Health); Charles Niwagaba (Makerere University, Uganda)
Funding
Swiss Network for International Studies (SNIS)

Project website

Link
In addition, we work with social psychologists to better understand the behaviour of individual small farmers and to derive effective political interventions from the psychological evidence.
Related publications:
Winkler, M. S.; Atuhaire, A.; Fuhrimann, S.; Mora, A.; Niwagaba, C.; Oltramare, C.; Ramírez, F.; Ruepert, C.; Staudacher, Ph.; Weiss, F.; Wiedemann, R.; Eggen, R.; Ingold, K.; Stamm, C. 2019. Environmental exposures, health effects and institutional determinants of pesticide use in two tropical settings. Working Paper.
PESTROP Policy Brief. 2019. Pesticide use in Smallholder Farms: Challenges and Oppurtunities for Health, Environment and Policy in Uganda.